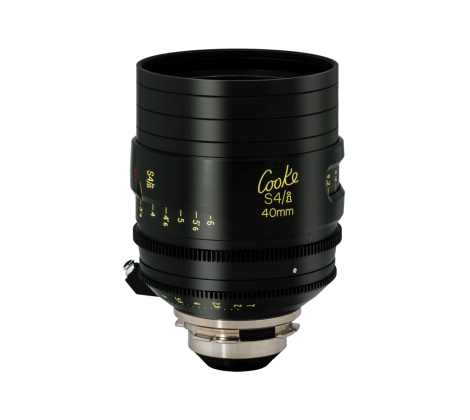 Cooke 40mm S4i T2
£140.00
Part of the Cooke S4i lens range, the 40mm is a useful 'in between' lens, sitting amidst the popular S4i 32mm and 50mm focal lengths.
The 40mm features the distinctive 'Cooke Look' optical characteristic and also retains the T2 maximum aperture which is found in almost every lens in the S4i series.
Available to hire
Close focus from lens front: 8.4"
Minimum marked object distance: 16"
Lens length: 5.5"
Weight: 2kg
Front diameter: 110mm
You may also like…
ARRI Alexa Mini

£

400.00

The Alexa family just got bigger. And smaller

ARRI's Alexa Mini brings all of their digital cinematography knowledge and expertise together in one compact, lightweight package. This small yet powerful camera shoots at a variety of resolutions between HD and 4K and up to 200fps, making the Mini a versatile addition to the existing ARRI family of digital cinema cameras. As you've come to expect, we've tricked our Alexa Mini kits out with 4:3 anamorphic licenses, giving this bow yet another string.

Naturally, the Alexa Mini had been designed with ease-of-use, both on set and in post-production, in mind. Utilising ProRes 422/4444 codecs, the extraordinary images this camera captures fit directly into your timeline and allow for quick editing and grading, saving your production time and money across the board.

We've geared our ARRI Alexa Mini kits to be as lightweight yet sturdy as possible, so each comes fully kitted-out with an ARRI professional accessory package and options of metal or carbon fibre bars – your choice. When coupled with the ARRI WCU-4 wireless control system, the Mini is perfect for shooting on sticks, Steadicam and using modern handheld gimbals such as the MoVI Pro.

We also stock an ARRI EF adapter, giving you even more lenses to choose from. Whether you're shooting on the fly and from the hip with DSLR zooms or with one of our PL lens packages, this camera does it all.
Related Products
Canon EF 50mm f/1.2 Prime Lens

£

40.00

Canon 35mm EF-mounted prime lens perfect for Canon C300 cameras and Canon DSLRs.

This lens is fully colour matched with other focal lengths in the L-Series and benefits from Canon's excellent auto-focus motors and electronic iris control.