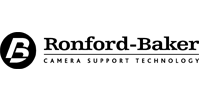 Ronford-Baker 2ft Straight Track
High specification steel track manufactured by Ronford Baker.
Hire rate card
Daily £9.00 |£10.80 inc VAT | Contact us for weekly & long term hire rates
Heavy-duty, high-quality track for precise dolly moves.
×
Hire the Ronford-Baker 2ft Straight Track
Get in touch with us
0208 343 1260
hire@shootblue.tv
Start a chat session
View contact details
People also hire
Panther Pixy Crane

£

250.00

Panther's Pixy Crane is a lightweight, highly portable camera crane with a maximum reach of 14′ and a maximum payload of up to 25kg in weight.

The Pixy can also be rigged as a short jib arm that can in turn be mounted onto a Husky dolly for tracking jib movements.

In addition to this, we also stock a Panther Trixy Remote Head that allows a single operator 2-axis control of a camera, along with lens control for broadcast-style lenses such as the Fujinon Cabrio series.
Related kit for hire
Panther Husky Dolly

£

150.00

Panther's Husky dolly is a high-specification dolly suitable for most cameras, including Arri Alexa, RED Dragon and Sony FS7.

Lightweight an portable, yet sturdy enough to tackle precise camera moves, this dolly is great for location or studio tracking shots and stands somewhere between a flatbed dolly and a Peewee/Fisher.

Egripment Focus Dolly

£

110.00

The Egripment Focus Dolly is a lightweight flatbed dolly compact enough to fit through most doorways.

This kit is can provided with lightweight straight & curved scissor track or the more heavy duty Ronford-Baker track upon request.

Ronford-Baker Track Run-Up

£

8.00

Short MOY track run-up for easily and safely mounting heavy-duty dollies such as the Peewee on standard MOY steel track.

Ronford Baker Adjustable Wedge Plate

£

50.00

A useful grip accessory for increasing the camera angle (tilt) and is commonly used in combination with a tripod head. Adjustable from 0° to 60° with secure locking at all angles and is compatible with cameras in almost any weight category. It can be used to achieve both a camera angle looking straight down as well as straight up at 90°

The base of the wedge plate is tapped with 3/8 threads for attachment to tripod heads & other rigging/grip. The sliding dovetail top plate enables further precise adjustments to be made to the camera position.