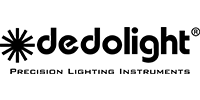 Dedolight DLED7 Bi-Colour 90w Kit
A comprehensive 3-head kit of Dedolight's latest focusable 'Turbo' LED range. Supplied with AC mains and battery power adapters.
Hire rate card
Daily £110.00 |£132.00 inc VAT | Contact us for weekly & long term hire rates
Dedo's are one of the most popular and useful film lighting fixtures. Super punchy, focusable and extremely compact, they have a myriad of uses and are one of the few lights that can be considered pretty much ubiquitous on a gaffers lighting list.
The Dedolight DLED7 Turbo series is the latest incarnation of the Dedo LED range and has a powerful, precise and variable output over both Tungsten and Daylight colour spectrums.
Our comprehensive kit DLED7 Turbo kit includes dual mains/battery power adapters, a softbox & egg crate for each lamp, a Dedo projector attachment, filters, gobos and mounting hardware.
For added versatility when using the DLED7, we also now stock the Dedolight DPBA-714 Parallel Beam attachment and Lightstream reflectors – please speak to a member of our hire team for further details.
×
Hire the Dedolight DLED7 Bi-Colour 90w Kit
Get in touch with us
0208 343 1260
hire@shootblue.tv
Start a chat session
View contact details
| | |
| --- | --- |
| Colour Temperature | 2700-6500k (variable) |
| Beam Angle | 4-60° |
| Weight (Dedo lamp head) | 1.3 Kg |
| Dimensions (Dedo lamp head) | 16.0 x 14.0 cm / 6.3 x 5.4″ |
3 x Dedolight DLED7-BI TURBO LED light heads
3 x Dedolight AC/DC power supply (for mains and battery powering)
3 x Dedolight V-lock battery DC power adapter with belt clip
3 x Deolight light shield ring
3 x Dedolight barn door
3 x Dedolight DLH4 speed ring
3 x Dedolight Dedoflex mini soft box silver
3 x Dedolight grid/eggcrate (for soft box)
1 x Dedolight DP1.1 Dedo projection attachment
10 x Dedolight Master Gobo set 'M' size
3 x Dedolight gel filter holder
1 x Deodlight gel filter set 'warm tone'
1 x Deolight gel filter set 'mixed diffusion'
1 x Dedolight gel filter set 'colour effect'
1 x Dedolight DFXH glass effects holder
1 x Dedolight gtlass gobo FX 'mystic squares'
1 x Dedolight glass gobo 'waves'
1 x Dedolight glass gobo 'frrago'
2 x Dedolight imager accessory pouch
1 x Dedolight clamp
3 x Dedolight DST stand
Wheeled soft case for Dedo lighting kit & accessories