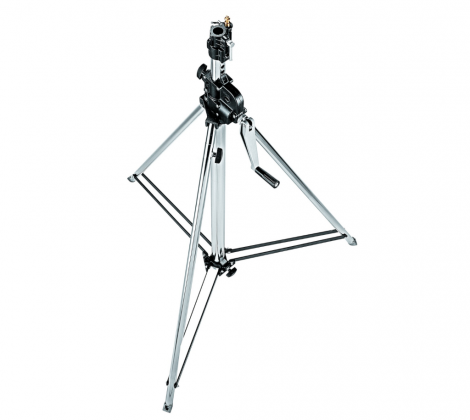 Single Wind Up Stand
£10.00
A single-section wind up stand which will support up to 45kg in weight and extend to just over 8′ (247cm).
Available to hire
You may also like…
Filmgear 2.5kw HMI Fresnel

£

100.00

A cost-effective 1.2kw HMI with a flicker-free ballast.

The Filmgear 2.5kw HMI is a popular choice for creating the illusion of a sunny day even on the greyest of English mornings, or for flooding an area with daylight.

We stock various soft boxes and scrims to make this head even more versatile.

Double Wind Up Stand

£

12.00

Two-section, heavy duty wind up stand. Extends to just over 12′ (370cm) to give you that extra bit of height where is counts. Rate to support up to 30kg in weight.

Available with rollers.

Avenger 12×12 Modular Frame

£

24.00

A modular, collapsible frame ideal for use with our wide selection of 12'x12' textiles and lighting accessories. You can also break this frame down into an 8' configuration, widening your options even further.

Easy to transport and lightweight enough to carry, this frame is perfect both on location and in the studio.
Related Products
Rosco 12×12 Griffolyn

£

30.00

White/black Griffolyn textile used to bounce larger sources or block them out. The sun is a good example of a large source in this case.

All of our textiles are provided with built-in ties for use with our collapsible frame or for tying to existing fixtures.

We also offer Griffolyn in an 8'x8′ size for smaller locations/suns.