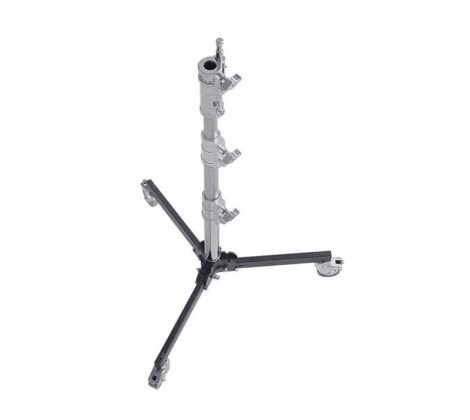 Rolling Monitor Stand
£5.00
Ideal for quick monitoring re-positioning whilst on set or in the studio.
Available to hire
Categories: Accessories, Monitors & Wireless, Lighting, Lighting Stands.
Tags: lighting stand, Monitor Stand, Video Village, Wheeled Stand, Wheels, grip, lighting, monitor, stand.
Minimum height: 78cm
Maximum height: 120cm
Closed length: 68cm
Weight: 6.4kg
Maximum payload: 25kg
Mounting: Ø16mm spigot, Ø28mm socket
You may also like…
Sony PVM-2541A 25″ OLED Monitor

£

140.00

Featuring the same OLED technology as the smaller 17″ PVM-1741, this 25″ monitor boasts incredible contrast and accurate colour rendering.

A particularly useful monitor on studio shoots featuring a lot of VFX or grading due to its size and precision, though it find itself at home in a grading or editing suite.

This Sony Monitor is also handy on multi-cam productions, especially when teamed with a Matrox MicroQuad or similar multi-viewer.
Related Products
Scubacam

£

500.00

Our custom-designed Scubacam underwater housing has been specially adapted to work with high-end cameras such as the Arri Alexa and RED Dragon, along with professional glass Angenieux Optimo zooms or Zeiss Ultra Primes.

We send the housing over to Scubacam after every hire to ensure that it is fully operational to a depth of four metres and that any camera used will be fully protected.