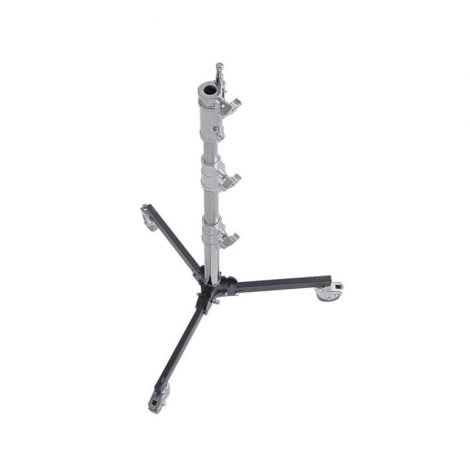 Rolling Monitor Stand
Hire rate card
Daily £5.00 |£6.00 inc VAT | Contact us for weekly & long term hire rates
Ideal for quick monitoring re-positioning whilst on set or in the studio.
×
Hire the Rolling Monitor Stand
Get in touch with us
0208 343 1260
hire@shootblue.tv
Start a chat session
View contact details
| | |
| --- | --- |
| Minimum Height | 31″ |
| Maximum Height | 47″ |
| Weight | 6.4kg |
| Maximum Payload | 25kg |
| Mounting | 28mm Socket |
People also hire
ARRI SkyPanel S120-C

£

220.00

The ARRI SkyPanel series offers powerful, soft lighting in a versatile and lightweight LED fixture. The S120-C is twice as long as the SkyPanel S60-C fixture, measuring 1290mm x 300 mm.

Features of the SkyPanel S120-C include adjustable colour temperature between 2,800K and 10,000K and tuneable RGB+W colour gamut allowing emulation of well-known Rosco & Lee filters/gels. The S120-C can be operated either by A/C mains or battery power.

Our comprehensive rental kit includes a set of diffusion and intensifier panels, DoPchoice SnapBag and SnapGrid for the S120-C.
Related kit for hire
Manfrotto Articulating Arm

£

3.50

Lightweight articulating arm, suitable for attaching monitors, on-board lights & other accessories to camera rigs.

Capable of securely holding up to 2.2kg in weight and available in two lengths.

Teradek Bolt Pro 600 Dual RX Wireless System

£

140.00

The Teradek Bolt Pro 600 is compact, zero-delay 3G-SDI / HDMI wireless video system with a range of up to 600ft.

Our rental kit includes one transmitter (TX) and two receivers (RX), enabling multiple monitors to be used simultaneously.

Features include a loop-through HD-SDI input on the transmitter, HD-SDI & HDMI outputs on the receivers and support for metadata.

Ideal for use with wireless directors monitors, gimbal systems, video village & Steadicam.

Hawk-Woods VL-140 V-Lock Battery Kit

£

50.00

High-performance Lithium-Ion batteries for powering cameras, monitors and accessories fitted with a V-lock battery plate.

This is a popular battery for use alongside LED panel lights or with a Hawk-Woods VL-DC5X plate.

The MR4T is a "2+2 charger", meaning two batteries can be charging simultaneously whilst a further two are on safe standby awaiting charge.

ARRI FF5 Cine Follow Focus

£

50.00

The modular Arri FF5 Cine kit is a lightweight and sturdy follow focus compatible with all kinds of lenses.

This follow focus can be quickly switched between a 15mm handheld configuration and a 19mm studio option at the turn of a screw, giving you incredible flexibility with all of the quality you've come to expect from an ARRI product.

The "CINE" configuration of the FF5 follow focus has a gear ratio of 1:2, as found in all ARRI's studio follow focus units.