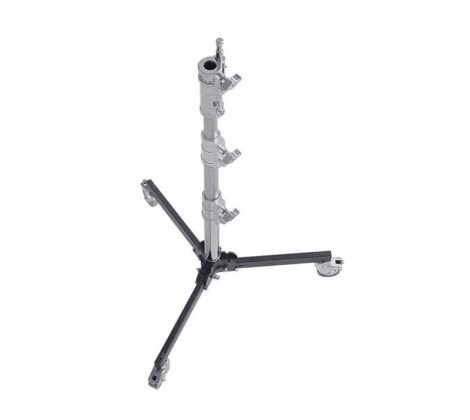 Rolling Monitor Stand
£5.00
Ideal for quick monitoring re-positioning whilst on set or in the studio.
Available to hire
Categories: Accessories, Monitors & Wireless, Lighting, Lighting Stands.
Tags: lighting stand, Monitor Stand, Video Village, Wheeled Stand, Wheels, grip, lighting, monitor, stand.
Minimum height: 78cm
Maximum height: 120cm
Closed length: 68cm
Weight: 6.4kg
Maximum payload: 25kg
Mounting: Ø16mm spigot, Ø28mm socket
You may also like…
Sony PVM-A170 17″ OLED Monitor

£

90.00

A versatile and high specification 17" OLED production monitor. This is our recommended monitor when precise colour accuracy & reproduction is essential.

Features include a wide viewing angle, fast response time, support for most HD & 2K SDI signals, dual input display and waveform/vector-scope function. The PVM-A170 also supports anamorphic image conversion and camera/lens metadata display.

Supplied fitted in an operational flight case for on-set use. The PVM-A170 monitor can be powered via either 12V DC or AC mains supply.
Related Products
15mm Bars (Pair)

£

2.00

A pair of strong, lightweight 15mm steel bars used for mounting accessories on a camera rig.

Available in various sizes to ensure your set-up works perfectly for you.

OffShoot Cine 15mm Shoulder Support

£

15.00

Our custom-designed adjustable shoulder support with 15mm bar adapter – ideal for using with lightweight handheld camera rigs.

Scubacam

£

500.00

Our custom-designed Scubacam underwater housing has been specially adapted to work with high-end cameras such as the Arri Alexa and RED Dragon, along with professional glass Angenieux Optimo zooms or Zeiss Ultra Primes.

We send the housing over to Scubacam after every hire to ensure that it is fully operational to a depth of four metres and that any camera used will be fully protected.

Hawk-Woods VL-190 V-Lock Battery Kit

£

60.00

A set of high-capacity, high-voltage V-Lok batteries supplied with a simultaneous 4-way charger for continuous power.

Supplied as the standard battery kit with our high-powered cameras, such as the RED Dragon, these kits are also available separately for when you need just a little more juice.