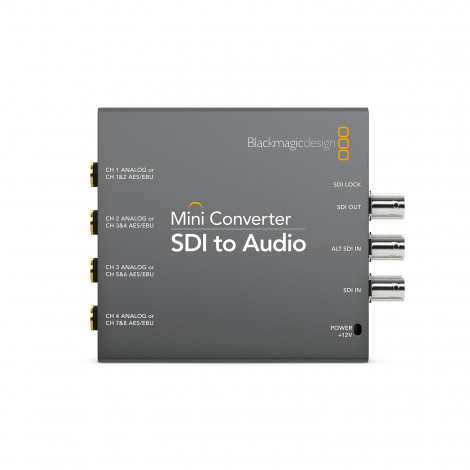 Blackmagic SDI-Audio De-embedder
Hire rate card
Daily £20.00 |£24.00 inc VAT | Contact us for weekly & long term hire rates
The Blackmagic Design SDI to Audio Mini Converter de-embeds analogue and digital audio signals from HD-SDI & SDI sources with embedded audio.
×
Hire the Blackmagic SDI-Audio De-embedder
Get in touch with us
0208 343 1260
hire@shootblue.tv
Start a chat session
View contact details
People also hire
LYNX Yellobrik SDI to HDMI Converter

£

20.00

Lynx Yellobrik CDH 1811 adapter which converts auto-detected HD-SDI & SDI signals to HDMI with embedded audio. It also features analogue audio output, so can be used as a de-embedder for SDI signals.

A popular application of the Lynx CDH1811 is for converting SDI video & audio signals to lower-cost monitor & TV displays that only have HDMI inputs (for example, a quad split or multi-view signals from an ATEM vision mixer)

Blackmagic Audio-SDI Embedder

£

20.00

The Blackmagic Design Audio to SDI mini converter embeds analogue and digital audio signals into an HD-SDI & SDI source.

Support for most SD & HD formats. Audio input is via 1/4″ TRS connectors.

Blackmagic ATEM 1 M/E Production Switcher

£

180.00

Blackmagic Design's ATEM 1 M/E Switcher has revolutionised live multi-cam vision mixing and monitoring, allowing a portable studio to be set up nearly anywhere there is power and a video feed.

Supplied in a robust yet lightweight fully-racked flightcase along with a the Blackmagic Design SmartView HD for monitoring sources & programme feeds, this is a quick and easy package to bring your multi-cam productions to life.

Able to support multiple keys and graphics, alongside up to eight live video/camera inputs, the ATEM 1 M/E vision mixer is a great solution for outside broadcast (OB) production, corporate communications and multi-camera live event coverage.

The ATEM 1 M/E also has live audio mixing capability and features audio input & output via both analogue & SDI embedded signals.
Related kit for hire
Sennheiser MD42 Stick Microphone

£

8.00

A high-quality microphone designed to minimise handling and wind noise when used in live reporting/broadcast environments.

Audio-Technica PRO24-CM Stereo Microphone

£

8.00

A compact condenser microphone with a built-in mini-jack output.

Powered by a single AA battery and supplied with a cold-shoe mount, this microphone is ideal for DSLT shooting.

Denecke TS-3 Digislate

£

30.00

Time code slate with support for reading, generating & displaying all SMPTE/EBU time code standards & frame rates.

We supply this digislate with all necessary sync cables and a set of spare AA batteries.